Aluminum Parts Manufacturer
Aluminum Parts Manufacturer. Aluminum parts, particularly ones precision machined by Roberson Machine Company, are becoming an increasingly popular choice for many customers, in many different industries. Aluminum is a lightweight metal with an excellent strength-to-weight ratio, making it ideal for parts and applications in which metallic-level strength is required, but mass is still a concern.
At Roberson Machine Company, we put quality first. We deliver complex, precise aluminum parts and products in half the time and at a far better quality than our competitors because of our talented and experienced team of specialists. Call the leading aluminum parts manufacturer today at 573-646-3996 or contact us online.
Why Use Aluminum for Custom Manufactured Parts?
Aluminum is versatile and easy to machine. It is the second most malleable and sixth most ductile material on the planet. (Ductility is a material's ability to change its shape and be drawn into wire without losing strength or breaking.) Several aluminum properties make it the perfect option for custom parts, including: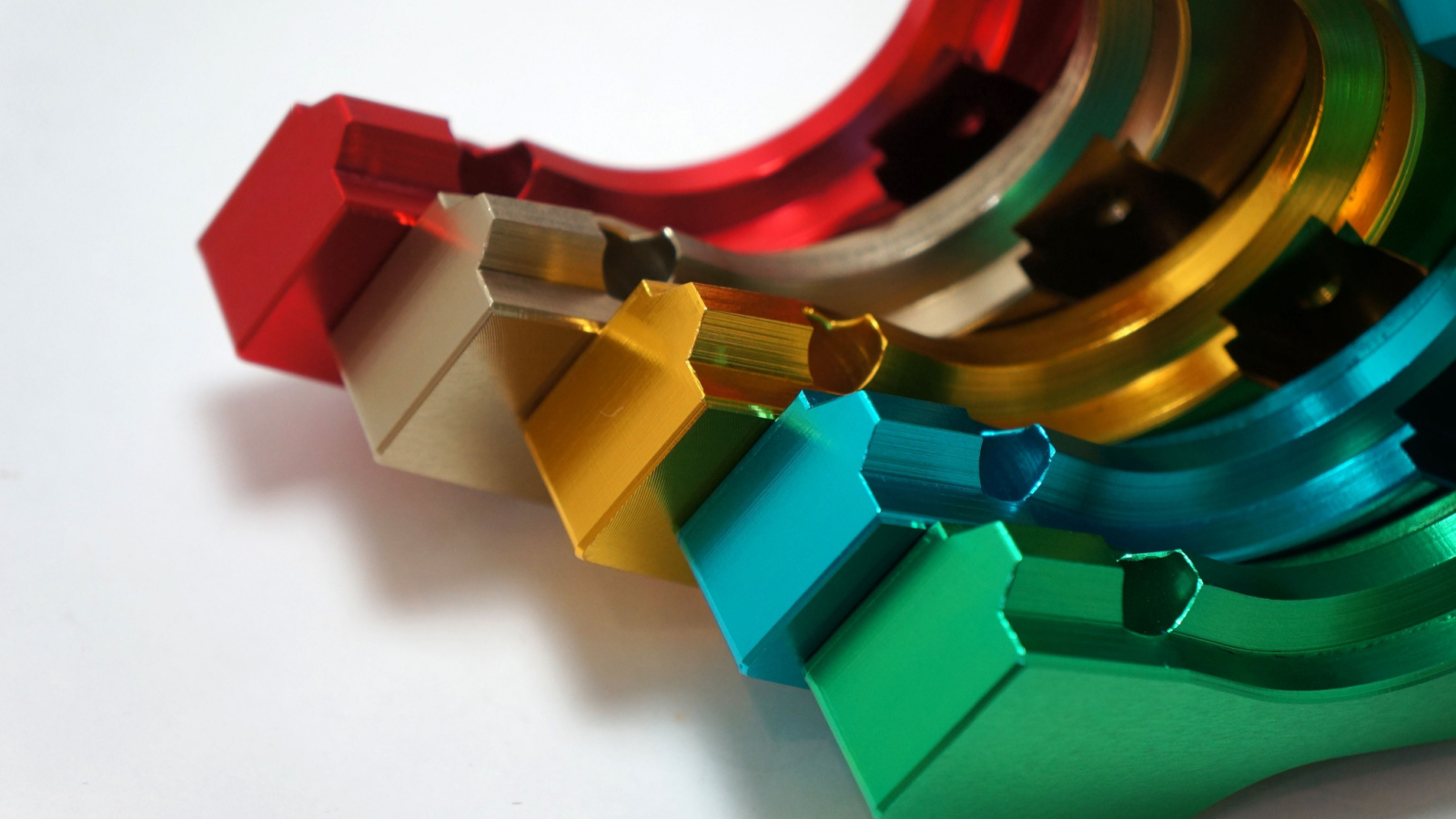 Where Are Custom Manufactured Aluminum Parts Used?
Aluminum is the most abundant metal in the earth's crust, and is widely used in different industries due the aforementioned properties. Roberson Machine Company offers quality custom aluminum parts and services for various capabilities. Call us at 573-646-3996 or contact us online, give us your specifications, and we'll deliver the finest custom aluminum parts. You can also use our online quote tool.
Aluminum is one of the most common materials used in the following industries:
Transportation – Aluminum has a lower density than most other metals, particularly steel and iron, making it an ideal material for various transport applications like railways, airplanes, spacecraft, and more. When used on vehicle bodies, aluminum improves fuel economy because it is lightweight. Additionally, custom aluminum parts don't rust easily due to protective layer of aluminum oxide.
Aerospace – Because it is light, flexible, and strong, aluminum is an ideal metal for building various items within the aerospace industry. Our clients in aircraft manufacturing use aluminum in almost every part, from the wing panels, refueling hoses, hydraulic systems, and fuselage to the tie-down systems and more. Aluminum parts make the plane as light as possible and ensure the components don't rust over time.
Food Processing and Packaging – Most food packaging containers use aluminum because it provides a reliable barrier that preserves food. These containers are easy to design into different shapes and sizes, and they are also recyclable. Aluminum is also preferred in the food processing industry because it's lightweight, corrosion resistant, produces no metallic taste, and doesn't tarnish.
Electrical – Compared to copper, aluminum is more cost effective and weighs less, making it the preferred material for electrical transmission lines. Other common applications of custom aluminum parts include:

Housing
Brackets
Fixtures
Panels
Enclosures
Knobs
Utensils
Engine parts
Optical reflectors

How Do You Manufacture Custom Aluminum Parts?

At Roberson Machine Company, a CNC specialist, we manufacture aluminum parts through the following processes:

Roberson Machine Company has CNC equipment with 3 axis and 4 axis, as well as 5 axis. We are your single-source manufacturer for aluminum parts, offering end-to-end milling services.

In addition to our milling machines, we specialize in turning services that offer our customers large quantities of high-quality products in a short amount of time. Our customers understand the importance of meeting production targets, no matter which industry they do business with. We also provide value-added services to alleviate any outsourcing.

We have the capacity to produce aluminum parts using 4 axis wire EDM. A major advantage of using wire EDM in the manufacturing of aluminum parts is that it eliminates burrs and slight irregularities. We also have the capability of providing tapered cuts up to 45 degrees.

Our facility is equipped with a wide range of CNC machines including lathes, turning centers with live tools, horizontal and vertical milling machines, and a variety of others. This allows us to produce precision machined CNC parts quickly in any quantity.

What Types of Aluminum are Used for Manufacturing Custom Parts?

Due to aluminum's strong, largely inert, malleable, and extremely versatile nature, we can machine it into the custom dimensions you need. Whether you need a precision machined and durable aluminum part for your aerospace applications or medical device component, Roberson Machine Company is here to help. Our vast industry experience, combined with our CNC and aluminum expertise, enables us to deliver complex projects in short turnaround times.

To get to know more about us, our aluminum part manufacturing, or our other CNC services, call us today at 573-646-3996 or contact us. Additionally, you can request a quote anytime online for precision CNC machined aluminum parts. We use the following grades of aluminum:

Size Up Your Project With a Leading Aluminum Parts Manufacturer | Roberson Machine Company

For over 20 years, Roberson Machine Company has been the place to turn for all of your custom aluminum part needs, providing skilled techniques with detailed precision. We have customers and clients in every industry that appreciate our dedication to timeliness, our central location, and our low costs.

Call your answer for custom aluminum parts today at 573-646-3996 or contact us online.