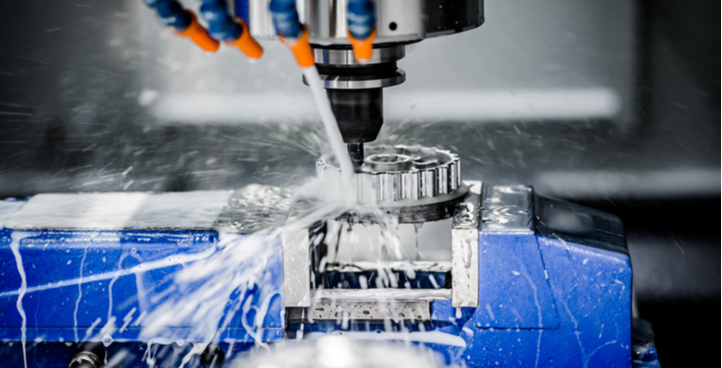 Multi Axis CNC | 3, 4, or 5 axis CNC
Multi axis machining services in Missouri. By cutting along a number of different axes, it's now possible to create complex components that meet exacting specifications with total accuracy— every time. The multi axis CNC machining services at Roberson Machine Company can be used in a variety of applications, industries, and businesses across the country.
Whether you need an initial prototype or a full run of components that are identical from one to the next, we have the capability to consistently meet your production targets on time and on budget. Tell us more about your multi axis CNC machining needs. Please contact us or call 573-646-3996.
Multi Axis CNC Machining Benefits
At Roberson Machine Company, we specialize in CNC machining, which stands for computer numerical control that simultaneously moves cutting tools along different axes to create a desired end shape.
Put simply, more axes means more power. This type of enhanced machining capability provides faster lead time and production turnaround with outstanding quality. It is an efficient and economical solution with many different benefits, including:
Time and cost savings
Increased productivity
Greater accuracy and precision
High cutting speeds
Less tool vibration
Excellent surface finish
Improved product quality
All industries can benefit from the power of more axes. For example, industries that need to create simple parts (such as consumer and commercial) can use 3 and 4 axis machining and those that require complex designs in which precision and is a matter of life and death (such as medical and aerospace) can use 5 axis CNC machine and beyond.
The ability to manufacture intricate designs is possibly the single biggest benefit of multi-axis CNC machining. Being able to manufacture parts using multiple angles, arcs, and throughputs that are impossible to achieve on more traditional CNC machines easily creates parts that combine both more complex designs and tighter tolerances. Industries like the automotive and aerospace sectors trust Roberson Tool for their multi-axis machining needs, as they can be confident that they will receive quality parts, made to their exact standards, and built to last.
Find out about all of our CNC machining services. Contact us today to get your free quote.
---
5 Axis CNC Machine
Traditional 3-axis machining moves vertical on the Y-axis, sideways on the X-axis, and back-and-forth on the Z-axis; however with 5 axis machining, you can also get two additional axes on top of these: the table rotation (C-axis) and the tilting table (A-axis). The spindle head is in closer proximity to the workpiece, allowing shorter and tighter cutting tool operation with less deflection and vibration. This, in turn, improves surface finishing.
5-axis CNC machines can also be used in what is known as "3+2" mode. This means that the two table axes are locked, putting the workpiece or cutting tool into a fixed position. 3+2 mode allows parts that would usually be machined on a 3-axis CNC machine to be produced on a machine that does not require as much downtime, special fixtures, loading and unloading, or changing of setups. It also allows parts that have holes or unique features on multiple faces to be machined quicker and more reliably.
By consolidating machining and other linear axes operations into one set-up, you can increase production throughput and accuracy while reducing overall waste, costly work fixtures, and cycle time. With so many different directions of work achievable with 5-axis machines, some may believe that they should only be used for specialty projects. This is not true as they can still be used for everything from highly complicated parts to relatively simple parts. 5-axis machines may even be a preferred choice when manufacturing less complicated parts. Their high speed and ease of use makes it possible for larger production runs to be undertaken while offering significant cost savings.
Contact us to see what a 5 axis CNC machine can do for you!
---
3 and 4 Axis CNC Milling Services
We tackle the most demanding jobs using our 3 axis and 4 axis CNC high-precision machines that cut hard-to-reach features into complex part geometry. At Roberson Machine Company, we are committed to the continual investment in state-of-the-art equipment, innovative technology, ongoing industry training, and experienced machinists. Everything we do is rigorously quality-checked at every stage, which enables us to not only deliver exceptional components every time, but to also continually improve our processes and discover new opportunities to cut costs. It is our mission to keep prices competitive without ever compromising on the quality of the end product.
---
Best 5 Axis CNC Machining Services | Roberson Machine Company
Our multi-disciplinary approach enables us to consistently meet or exceed your machining expectations. As a leading provider of CNC milling services and all types of machining for over 15 years, we can help you create the most demanding shapes that require incredible detail in as little amount of time as possible.
The experienced engineering professionals at Roberson Machine Company are ready to take on your multi-axis machining project. We own our entire premises, which allows us to use the money other engineering firms would spend on rent to instead constantly improve our equipment. Every member of our team puts quality first and is driven to provide the best possible customer service. Our Missouri machine shop is also ideally located near major interstates, railway lines, and cargo airports, allowing for our clients to get high-quality parts when they need them, even if the deadline is tight.
To tell us more about your project or to request a quote for multi axis CNC machining or CNC milling services in Missouri, contact Roberson Machine Company or call 573-646-3996.
---