Contract Manufacturing Greensboro, NC
Contract manufacturing Greensboro, NC. Customers from Greensboro, NC and all over the nation turn to Roberson Machine Company when they want refined finished products completed to precise specifications, on time, and within budget.
Expenses for your Greensboro, NC company's in-house machining include expensive equipment, workers to man the production line, and space to store new operations. Contract machining utilizing Roberson Machine Company's advanced capabilities can be performed matching the same level of quality and within a more reasonable budget. This allows you the time and resources to continue growing your Greensboro, NC company and to concentrate on your other essential processes.
So whether your Greensboro, NC company needs a small part or large part, a basic mechanical assembly or intricate specialized machine, a limited amount of components, or the maximum production power of a contract manufacturing facility on your side – Roberson Machine Company is your leading choice for a contract machining company partner.
To discuss your Greensboro, NC CNC machining project in more specifics or to learn more about partnering with Roberson Machine Company for contract manufacturing, call 573-646-3996 or contact us online.
Greensboro, NC Contract Manufacturing Services Available at Roberson Machine Company
As a leading contract manufacturer, our facility boasts cutting-edge production equipment to suit a variety of part designs, including medical devices, packaging, aerospace, electronics, and more for your Greensboro, NC company.
We own a centrally located and fully operational shop that hosts a full suite of contract manufacturing services to customers throughout the Greensboro, NC area. These include:
Value added services, including tumbling, deburring, engraving, welding, and prototyping
Complex aluminum and stainless steel machining
We have the equipment, personnel, and the know-how to manufacture virtually any product, from prospective planning and prototyping all the way to the final production run. You can continue to focus on your core competencies in Greensboro, NC, while your single-source manufacturing partner takes care of the rest.
What Are the Benefits of Your Greensboro, NC Company Contract Manufacturing With Roberson Machine Company?
Your Greensboro, NC company faces several different and unique challenges every day, such as seasonal demands, high start-up costs, storage issues, and continuous improvement of product quality. Contract manufacturing is a solution for many of these issues, as well as add value to any manufacturing process. Find out more regarding the many benefits of contract manufacturing with Roberson Machine Company below:
Savings – Contract manufacturing not only saves you time, but also money and space. While we take care of the manufacturing and inventory management, you can reduce labor costs for your company in Greensboro, NC, cut down on human error, and free up storage space for other capabilities.
Fewer errors – Traditional machines may use adjustments and manual calculation, which could result in a multitude of production errors. CNC machining uses computer programming to conduct the manufacturing process so that parts are made to your exact specifications. This is especially useful when making a vast amount of components for Greensboro, NC companies that must be identical to one another in a shortened amount of time.
Quality management – CNC machining must adhere to the tightest tolerances in order to meet market demands in Greensboro, NC. When combined with your Greensboro, NC company's in-house quality management system, partnering with a contract manufacturer like Roberson Machine Company can add another layer of protection to your overall production procedure. We also offer documented testing and inspections to guarantee that machined components will meet your needs and exceed your expectations. We have internal standards that adhere to ISO 9001 and AS9100 certifications.
More options for product diversity – CNC machining of all types can give you the ability to create whatever you want. Computerized automation and programming have transformed the manufacturing process, which means machined elements can be made in a wider selection of sizes, shapes, and materials than ever before.
Working with a talented team – Our experienced staff of team of programmers, production personnel, technicians, welders, and machinists don't have to start from scratch when operating CNC machines. With decades of experience in the industry, we are knowledgeable machinists who are accustomed to making any part with tight tolerances and exact specs.
Cutting-edge technology – The cost of just one CNC machine is steep. At Roberson Machine Company, we invest heavily in the most advanced technologies so that our Greensboro, NC clients always have access to the latest in CNC machining. Keeping up-to-date allows our staff to rise to the occasion when facing new challenges from our Greensboro, NC customers. We hold to tighter tolerances and stricter specifications than ever before.
Ability to scale – Choosing a manufacturing partner such as Roberson Machine Company allows your Greensboro, NC company to scale your operations up or down to meet consumer needs as they arise. As an example, if there is increased marketplace demand, your Greensboro, NC company may need to purchase new machines, free up space for the machines, and show employees how to use them. But, when there is a decline in demand, you are left with overhead costs. Our facility is flexible enough to meet your demands. Plus, we continuously work with your Greensboro, NC company to accommodate fluctuating markets. Give us a call now at 573-646-3996 or connect with us online.
Simplified supply chain – As your partner, we want to make the process as seamless, simple, and easy as possible. Rather than attempting to manufacture individual parts independently in Greensboro, NC, our facility can be your one-stop shop for intricate and complex prototyping, manufacturing, inspection, and anything in between.
In addition to being the go-to partner for contract manufacturing for your Greensboro, NC company, Roberson Machine Company provides the following: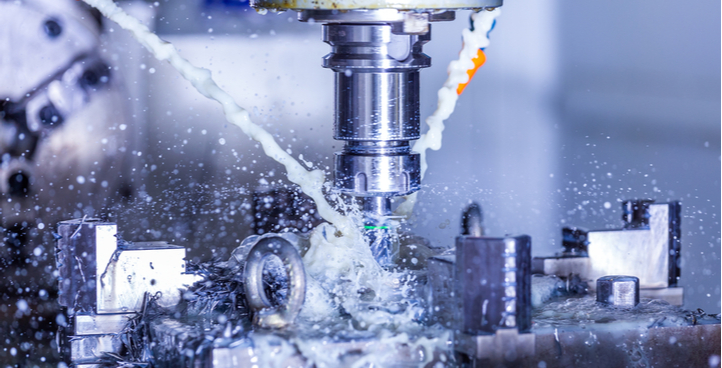 Greensboro, NC Medical Device Contract Manufacturing at Roberson Machine Company
One of the biggest industries that Roberson Machine Company is proud to serve is the medical sector. As a leading contract manufacturing company for companies in the Greensboro, NC area, consistent technological advancement is not only strived for but expected – especially in healthcare applications in which accuracy is a matter of life or death.
In the medical field, businesses in Greensboro, NC call for our products to be precise, smooth, reliable, durable, and highly hygienic. Medical device contract manufacturing is ideal in cases like this to meet high-volume orders at a rapid and continuous basis throughout the Greensboro, NC area. At Roberson Machine Company, we have the tools and capabilities to deliver on these exact specifications. Allow our machinists and technicians to give you the tools you need to care for your Greensboro, NC patients. Give us a call right away at 573-646-3996 or contact us online.
A Leading Contract Manufacturer For Companies in the Greensboro, NC Area, Throughout the U.S. | Roberson Machine Company
We want to be your valued partner in all of your machining needs in Greensboro, NC. We are proud to be an elite contract manufacturer for companies in Greensboro, NC for over 20 years. With a deep commitment to responsive service and customer care, we have the capabilities to complete just about any machining project according to your budget, timeline, and with only the best results.
Our modern, fully-tooled CNC machining shop is available to Greensboro, NC customers in industries from medical and automotive to commercial and oil and energy. To talk about your CNC machining project with us or to find out more about contract manufacturing, give us a call right away at 573-646-3996 or reach out to us online.
---